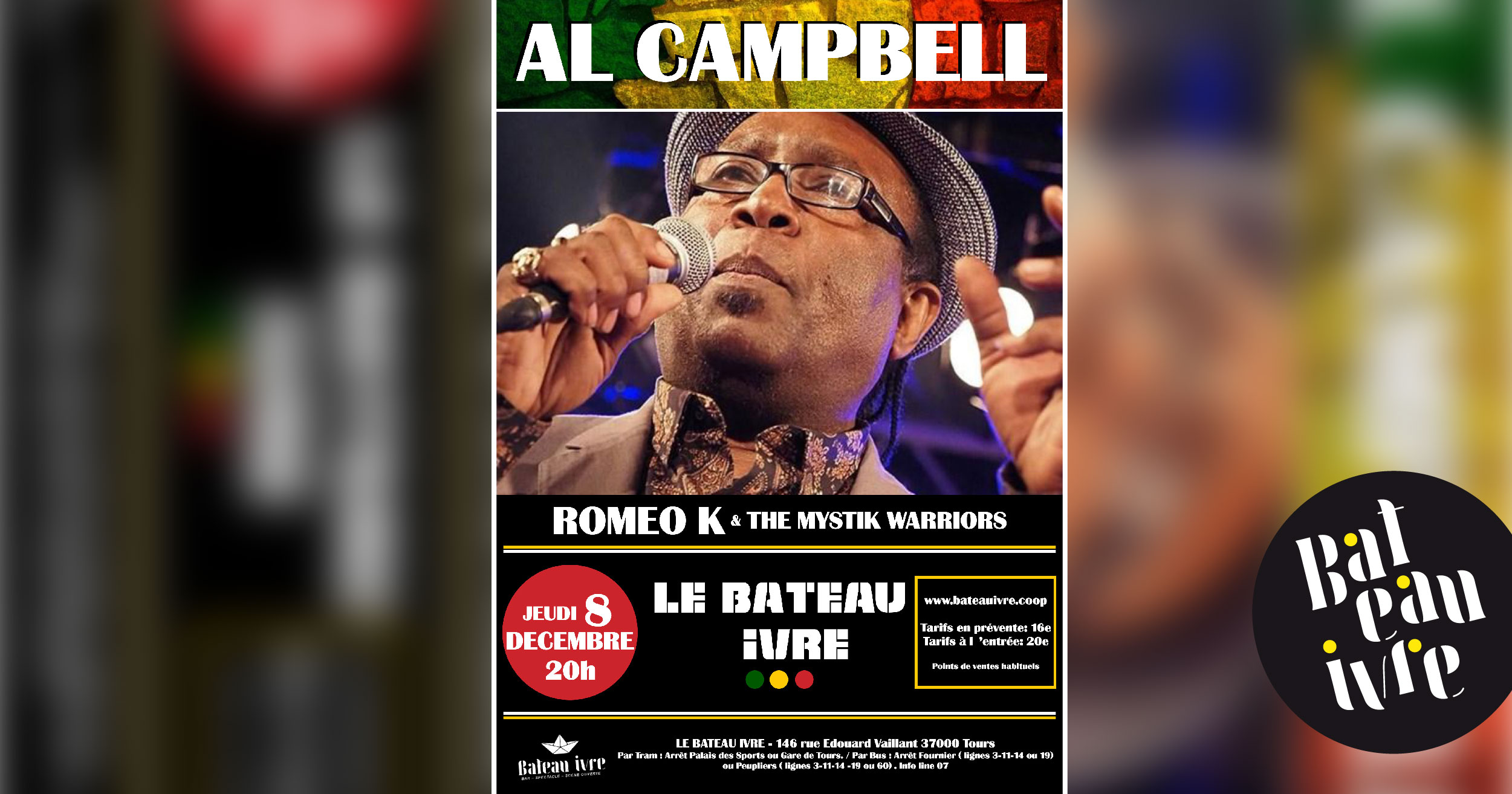 AL CAMPBELL (JA) + ROMEO K
Jeudi 8 Déc 2022
20h
16€ / 20€

AL CAMPBELL (JA)
Al Campell fait partie des légendes du reggae jamaïcain des 70's encore en activité. Ayant fait ses armes chez Coxsone, il est devenu une référence du roots grâce aux plusieurs tubes et albums réalisés entre 1970 et 1985, notamment « Gee Baby, Turn Me Love, Talk about Love, Where were you ». Al Campbell a chanté, produit ou écrit pour des artistes tels que Barrington Levy, Freddie Mc Gregor, Dennis Brown, The Mighty Diamonds ou Sly & Robbie. En solo, on le connaît essentiellement pour ses albums « Natty Too Tall » (Ras Rec) « Forward Natty » (Move Rec), « Fence Too Tall » (Live & Love) et « Deeper Roots », « Late Nigt Blues » ou « Mr Lover's Rock ». Invité comme tête d'affiche dans le cadre de la soirée prévue le 21 octobre 2022 au Bateau Ivre, les fans du reggae sont prévenus, il va y avoir des vibes… pour faire le plein d'énergie avant l'hiver.
A partager sans modération !
ROMEO K
Artiste rare et discret de la scène reggae hexagonale, c'est un son et une énergie qui nous viennent d'ailleurs. Accompagné par le band « The Mystik Warriors » dont les musiciens comptent parmi les plus grands noms du genre, Romeo K nous propose un reggae roots authentique, moderne et original, savant mélange entre puissance des riddims, douceur des mélodies et profondeur des textes.
---
Infos pratiques
Le Bateau Ivre
146 rue Édouard Vaillant
37000 Tours
Le Bar est ouvert dès 18h en semaine et 16h les dimanches ouverts.
Tram Gare de Tours • Bus Fournier • Parking vélo • Place Velpeau pour les voitures