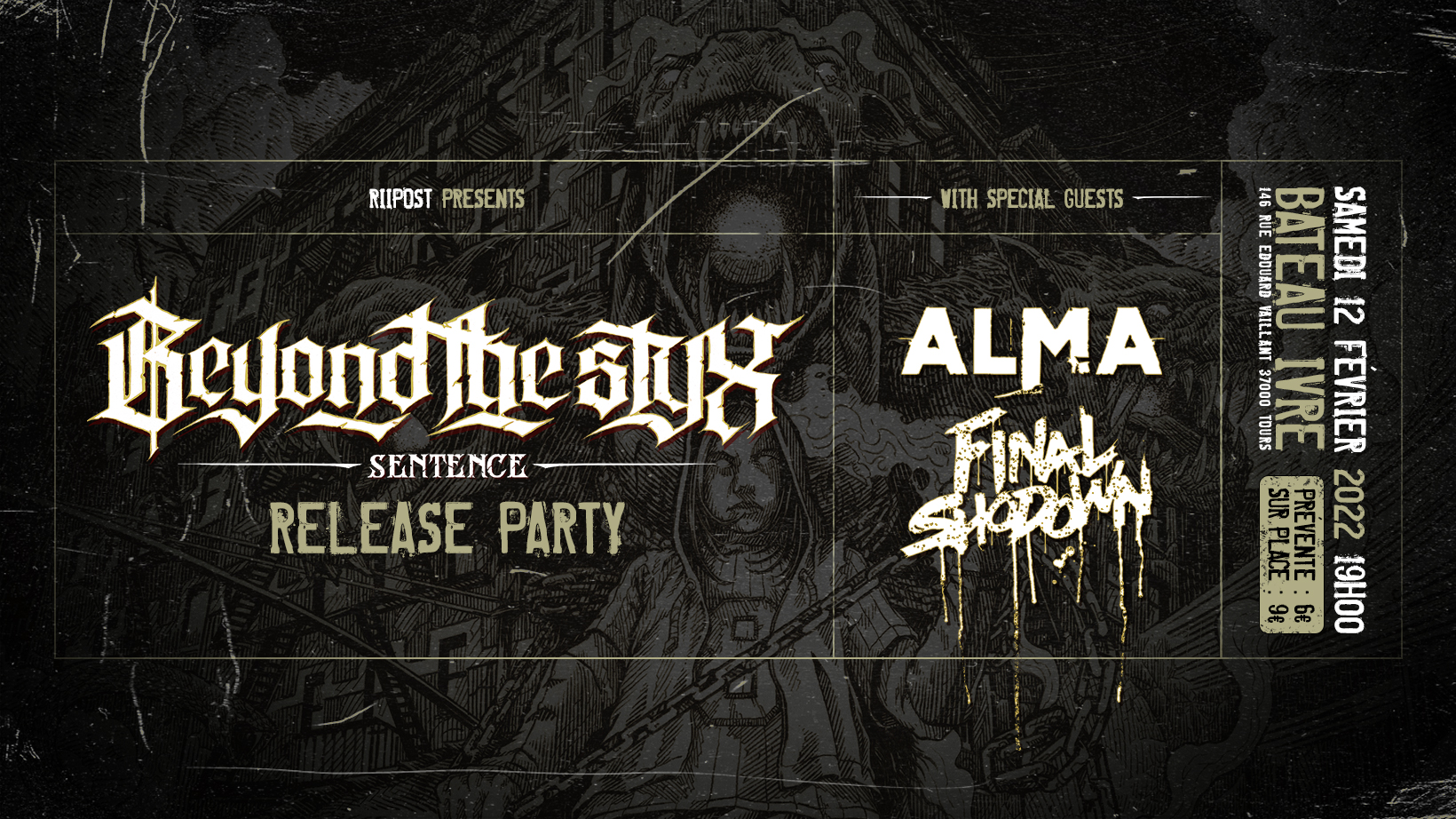 6€ prévente (jusqu'au 11/02/22 - 23h59) 9€ sur place
BEYOND THE STYX
Samedi 12 Mar 2022
🍻 et 🎤 dès 19h
6€ / 9€

A l'occasion de la sortie de leur 3ème album: « Sentence »,
retrouvez le quintet Hardcore métallique « BEYOND THE STYX » aux côtés de leurs confrères de scène: ALMA (Punk Hardcore) & FINAL SHODOWN (Brutal Deathcore) pour une soirée sous le signe du Hardcore!
Amateur de sensations fortes ce soir est ton soir !
A l'approche de la sortie de son nouvel effort studio, le torrent BTSTYX est de retour plus animé que jamais par la volonté manifeste, authentique et incisive d'ouvrir les esprits aux travers qui rongent depuis trop longtemps notre société moderne des plus décadentes.
Amateurs de sensations fortes…
L'heure de la « SENTENCE » a sonné!
FOR FANS OF: Walls Of Jericho, Harm's Way & Sworn Enemy
Alma
(Hardcore / Tours)
Quatuor Hardcore aux accents Thrash Old School et à l'énergie aussi contagieuse que redoutable. Alma porté par la voix sans concession de Giny est plus que jamais de retour sur scène à l'occasion de la sortie de son 1er album « Time's running out ». Il n'y a pas que le temps qui te laissera sa marque !
LIVE VIDEO: https://youtu.be/gm-rjVsnaw4
MUSIQUE : https://almahxc.bandcamp.com
FACEBOOK : https://www.facebook.com/almahxc
FOR FANS OF: All For Nothing, We Ride & Sisterhood Issues
Final Shodown
(Brutal Deathcore / Tours)
Inspiré par la vague Death Hardcore, le quartet signe et persiste avec la sortie de son 1er EP « Illusions ». Fort d'une volonté et d'une énergie hors paire FS se forge date après date un nom dans la scène Hexagonale, laissant tout sauf de marbre.
VIDEO CLIP : https://youtu.be/9URevYa_jl0
LIVE VIDEO: https://youtu.be/C5E1EPERmCE
MUSIQUE : https://finalshodown.bandcamp.com
FACEBOOK : https://www.facebook.com/FinalShodown
FOR FANS OF: Bodysnatcher, The Acacia Strain & Molotov Solution